Process Development Life Cycle
Mineral and chemical processing operations tend to follow a typical life cycle – starting with feasibility studies and detailed engineering design, through to construction, commissioning, operation and maintenance, and often followed by process improvement projects and plant expansion.
At all stages, different process options or methodologies must be considered. Decisions are made based on factors such as capital cost, operating cost and technical risk. Other important factors include product quality, secondary products, operational safety, carbon footprint, environmental emissions, water use and energy consumption.
As the world's commodity producers embrace digital technology for process enhancement, traditional reliance past company practises is often insufficient to remain competitive. SysCAD offers a means to leverage company knowhow with cutting-edge digital technology based upon fundamental science to make better decisions.
The following diagram provides an overview of the key deliverables supported by SysCAD throughout each phase of the process development cycle.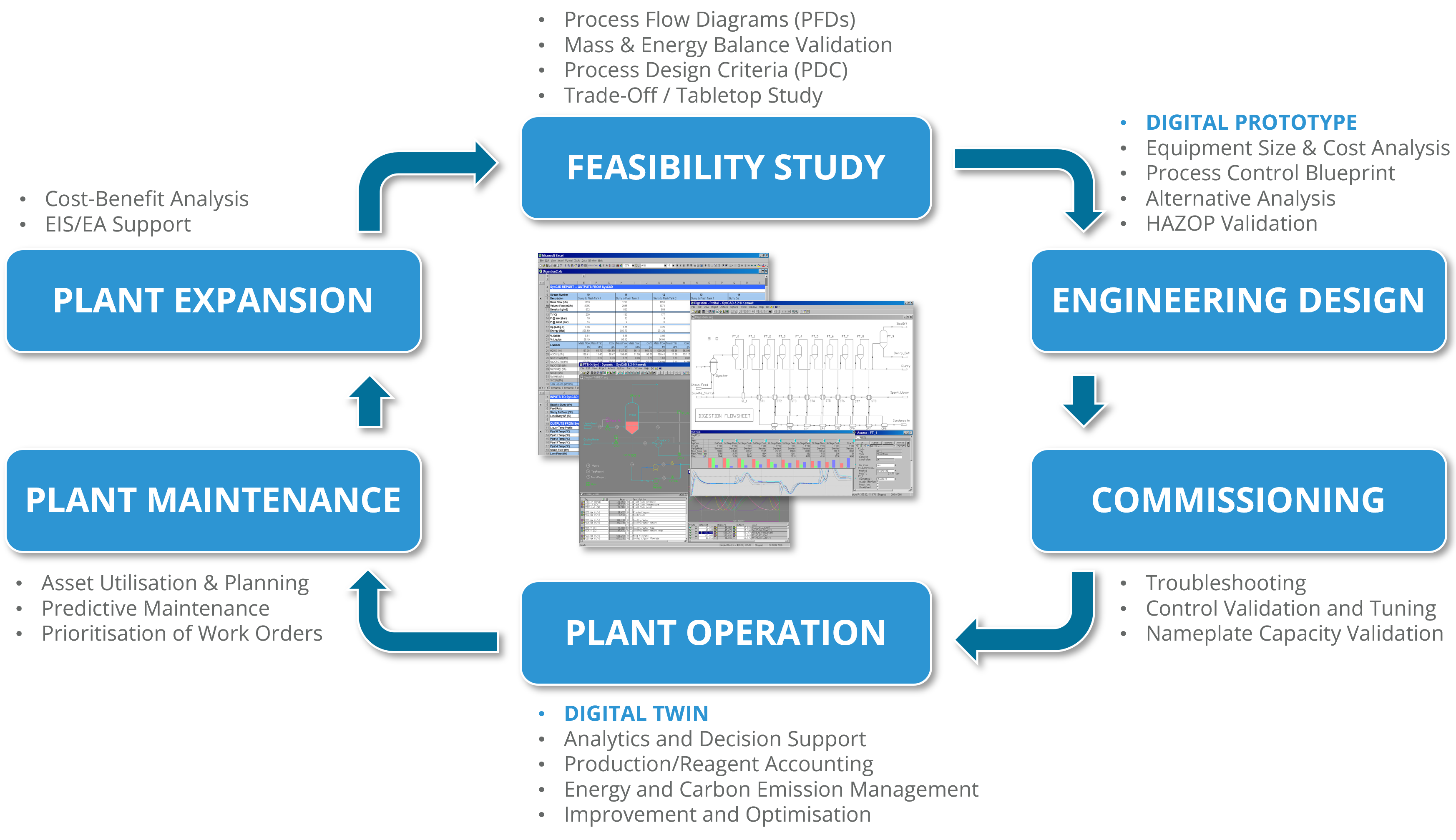 Simulation for Design and Operation
The use of process simulation tools such as SysCAD is well established in the Design Phases (e.g. feasibility, process and control design, commissioning and expansion). The earlier process simulation is adopted in the development life cycle, the sooner potential issues are identified affecting design change. A well-maintained SysCAD model provides an excellent repository for all forms of process knowledge (IP) and is a powerful tool for process evaluation and decision-making.
As the project lifecycle proceeds, a SysCAD model must adapt to changing requirements. A Process Design modeller has very different set of requirements for a simulation tool than an Operations team. SysCAD has a wide range of flexible modelling tools for different levels of rigour appropriate for each stage, from concept to operations and beyond.
As the digital transformation of Industry 4.0 is adopted, process simulation is increasingly used to support Operations decisions. High quality simulation models, developed during the design phases, facilitate the transition for use as a Digital Twin for the more dynamic Operations Phases (e.g. start-up and shut-down, plant operation and maintenance).
Digital Twins, built to interact with complex data sets including online process measurements and real-time asset information, are used to investigate operating scenarios and validate assumptions.
The following image, from DECHEMA & ProcessNet's 2021 position paper[1], shows the interplay between the asset lifecycle, operations supply chain and the corresponding Digital Twin.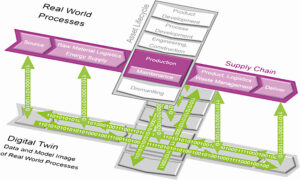 Future EPC Deliverables
While Operations adopt Industry 4.0 simulation and Digital Twin systems, EPCs are increasingly adopting holistic Build Information Modelling (BIM) and Data-Centric Systems to design assets during the design phases of the lifecycle.
In the future, this shift is likely to result in a change of deliverables from EPCs to Operations – moving from process flow diagrams, process design criteria and data sheets to integrated Design and Operations packages consisting of SysCAD simulation models, intelligent 3D asset models and process data integrated across intelligent P&IDs.
Digital Twin with Real World Benefits
The investment in building and using a SysCAD process plant model throughout the plant life cycle supports continuously improving the knowledge base of the process. Owners can actively use the model for various purposes during project design phases and convert the SysCAD steady-state process plant model to SysCAD dynamic Digital Twin models to support operations post-commissioning.
To realise the true benefits of a high fidelity SysCAD plant model and digital twin for your process, now and in the future, it is important that:
the Owner Operator mandates SysCAD be used across all life cycle phases and owns the master SysCAD process plant models throughout all phases of the life cycle
a robust Model Management System be implemented to ensure that any staff turnover and consultant changes does not result in loss of knowledge and compromise the integrity of the SysCAD process plant models
From a simple tabletop study to a fully integrated Digital Twin, SysCAD is with you every step of the process development cycle.
References
[1] Bröcker S, et al. (2021)
"Process Simulation – Fit for the future?"
DECHEMA & ProcessNet